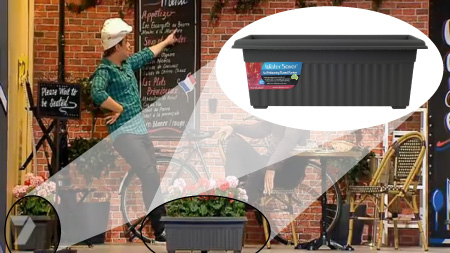 The French are known around the world for their cuisine, fashion, and stunning design. So when Channel 7's SlideShow had a skit set in a French café, is it any wonder why they chose the WaterSaver 470mm rectangle fluted planter by HomeLeisure?
This innovative self-watering planter provides your plants with just the right amount of water to keep them healthy and in top condition. Further, it is designed to avoid water leakage and to prevent over- or under-watering.
Lightweight and perfect for maintaining plants in the harsh Australian climate, it is an innovative Australian-made product with a beautiful design – even perfect for an elegant French garden café!
Available in a range of colours, shapes and sizes to suit your home and garden, the WaterSaver self-watering planter series by HomeLeisure is available now at Bunnings.