Sun Garden is Europe's leading parasol and outdoor co-ordinates brand.
Their modern designs and attractive colours reflect current trends, with styles and expressive accents that are as long-lasting as their materials and quality workmanship.
When the sun burns hot in the sky, there's nothing finer than the comfort of a shady spot to rest and daydream. The Sun Garden Easy Sun parasol gives you a large shady area wherever you need it. Simple, flexible, with a wide selection of colours.
Master Distributors offers you this super saver deal on select Sun Garden Easy Sun parasols:

Features: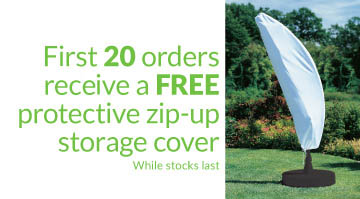 Between 3.5 and 3.65 meters wide – these are huge!
With a polypropylene canopy, Sun Garden Easy Sun parasols are hard-wearing, durable and colour-fast – suitable for the harsh Australian sun
Easy to open using a simple crank handle on the side of the frame
Rotate 360° in 18 positions to provide maximum shade no matter the sun's angle
Repositional base allows you to move it around and take it with you
Designed and manufactured in Germany – the best in European quality and style
Limited stocks available in a variety of colours
Choose your Easy Sun parasol size and colour
Choose which Sun Garden Easy Sun parasols to buy below. Simply click 'add to cart', review your order in the checkout, then pay safely and securely through PayPal – you don't need an account with PayPal, just a credit card.
Round 3.5 meter diameter
Terms and conditions
Direct to consumer, delivered to your door. Includes parasol and base. Offer available until sold out but may be withdrawn at any time. Limited colours available until sold out. Limited stock available of the storage cover to the value of $149 RRP supplied at no cost with all orders until sold out. All care has been taken to ensure pricing is correct at the date of quotation. Up until such time that an order has been confirmed, Master Distributors reserves the right to change pricing without notice. Errors and omissions excepted. Further general terms and conditions also apply.
For more information
For more information on this Easy Sun parasol super summer deal, contact Master Distributors.