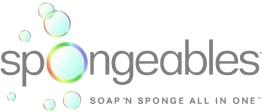 With a combination of skin care, luxurious fragrances and a rich, creamy lather, you can turn every shower into an indulgent spa experience at home.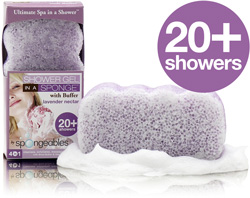 Spongeables are revolutionary sponges and buffers infused with soaps, gels and skincare ingredients for all-in-one cleansing, exfoliating, moisturising and massaging. No other skin products are necessary. Each Spongeables is formulated with everything needed for healthy, beautiful skin.
Thanks to their patent-pending infusion process, Spongeables give you over 20 pleasurable uses. They are a piece of luxury for your every day, and ideal companions to take travelling. Enjoy some rewarding indulgence while away from home for work, or be pampered on holidays for a truly relaxing experience.
Cleanse, exfoliate, massage and moisturise
Spongeables sponges and buffers are formulated with the finest skin care ingredients, each chosen to enhance your body's complexion from neck to toe. Specific ingredients and benefits include:
OLIVE OIL – The perfect hydration for all skin types.
GLYCERIN – A gentle cleansing agent that prevents moisture loss and helps skin maintain a positive moisture balance.
SHEA BUTTER – The optimum daily moisturiser for dry skin.
VITAMIN E – A natural healing antioxidant that helps prevent premature ageing and skin damage.
Spongeables are paraban-free and never tested on animals. Use the silky side of your Spongeables sponge to cleanse and moisturise, and flip over to the scruffy side to exfoliate and polish your skin.
For body, hands and feet
Enjoy rejuvenated, beautiful skin all over your body with a Shower Gel Sponge in White Rose or a Shower Gel Sponge with Buffer in Lavender. Meanwhile you can focus on refreshing your tired feet with a Pedi-Scrub Foot Buffer in Citron Eucalyptus, and keep your hands clean, soft and youthful with an Applause Hand Buffer in Honey Lotus Quince. Try some today!
Loved by users everywhere
We've found plenty of positive reviews all over the internet for the Spongeables range. Here are just some:
They're wonderful, convenient and smell delicious – Brian Jones on Amazon
It lathers up nicely and lasts through many uses – Kelbel on ULTA Beauty
They smell wonderful & leave your skin feeling fresh & smooth! – Kari B on Amazon
A decadent treat for the skin – Mommy Kat and Kids
I love the smell of the spongeables, plus they really soap up big time – amber01sw on Amazon
The scent is lovely and the lather is really good – Two Classy Chics
Amazed at how baby soft my feet are and how quickly the Pedi-Scrubs worked their magic – NyiNya on Amazon
I found the product [...] effective at cleaning and buffing – Pretty Gossip
Good cross between a scrubbing sponge and a pumice stone! – The Branch Family on Amazon
This incredible sponge really protected my skin from the harsh wintry weather – NY Cupcake
My hands have gotten softer and the dead skin on the backs is gone – J. Adair on Amazon
Smells so clean and fresh [...] Loves it! – Beauty Junkie