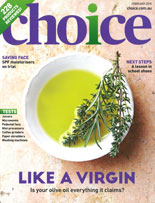 Download the document (PDF).
Our friendly customer service team scored a thumbs-up commendation in the February edition of Choice.
We promptly responded to Annette's first email about her Family First smoke alarm enquiry, and assisted her with a replacement to ensure her total satisfaction.
Master Distributors works hard across all our brands to ensure customers are given professional customer service as soon as any issue is brought to us, and we are so thankful for the public recognition for what we have been able to achieve for Annette.
Contact us today to experience our qualified customer service.