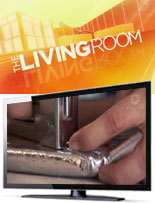 The two designers on a recent episode of Network Ten's The Living Room were faced with the challenge of making-over two kids bedrooms.
We noticed both James Treble and Shannon Fricke relied on their dependable Arrow staple guns to get the upholstery aspects of the rooms completed with no fuss and a professional finish.
James used the renowned Arrow T50 Heavy Duty Staple Gun. Time-tested for more than 50 years, the Arrow T50 is the world's best-selling staple gun, and for good reason thanks to its all-steel construction, jam-resistant mechanism, hand-contoured handle and visual refill window. It's an ideal staple gun for everyone, from the home handyman to the interior designer and professional tradie.
Shannon was using a much-loved Arrow T27, still going strong for her upholstery tasks. Like James' T50 it features a jam-proof mechanism and visual refill window, with a durable high-impact moulded plastic housing for light upholstery work and household use. Whilst not available any more in Australia, Arrow produce a variety of staple guns to suit every task; we'd recommend the Arrow JT21CM Chrome Staple Gun for those who need a reliable stapler for light duties around the home.
You can watch this episode of Ten's The Living Room here.