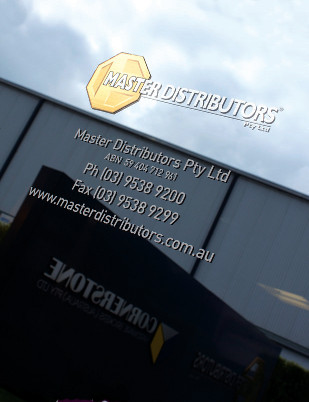 Sandra Dobbin, CEO, founded Master Distributors in 1998 to source, import, distribute and exclusively represent international leading brands for the Australasian markets.
An exciting and energetic team of sales and marketing people support Master Distributors. By utilising this knowledge, sales are maximised and products are successfully sold and distributed into diverse Australasian markets.
The start of 2012 saw the commencement of Master Distributors' company-owned operations in New Zealand.
With warehouses and full logistics teams in Australia and New Zealand, the storage, picking, packing and distribution of products is efficiently managed, and reliable service is our mantra.
Today, Master Distributors is aligned with Cornerstone Merchandising Solutions (see right), a professional sales force with sales representatives located in both Australia and New Zealand for efficient servicing of these markets. Cornerstone's expertise is instrumental in the DIY, hardware, garden market and related retailers. Master Distributors also employs specialty sales team to service and work with commercial, grocery, mass-merchant, and all other retail outlets.
Product barcode verification accreditation
Master Distributors are Intermax-accredited to use Axicon barcode verification equipment. This accreditation allows Master Distributors to test and verify that its product barcodes meet and exceed specifications so that they scan at the highest levels at the point of sale Australia-wide.